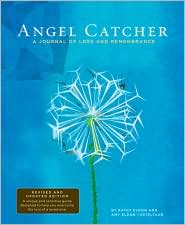 While many of us are familiar with the stages of grief, one cannot fully comprehend the feelings of loss until it is experienced.
Angel Catcher: A Grieving Journal
(ISBN: 0-8118-6172-4) is a unique and sensitive guide designed to help the reader overcome the loss of a loved one. With a refreshing design, room for photographs and clippings, headings to inspire reflection, and space to record personal thoughts and memories, this keepsake book captures the essence of a special relationship while allowing one to move forward.
Authors Kathy Eldon and Amy Eldon Turteltaub created the Angel Catcher concept while grieving after Kathy's son Dan died tragically in 1993. This revised and updated version includes a new introduction in which the authors share their person stories, and a refreshed, contemporary design with evocative illustrations by Susy Pilgrim-Waters.
They also have a kids version now too. Angel Catcher is a heartfelt and helpful approach to a difficult subject. It is a way to catch - and hold - an angel.
About the Authors
Kathy Eldon and May Eldon Turteltaub are the authors of best-selling journals such as Soul Catcher and Love Catcher, both published by Chronicle Books. They co-founded the Creative Visions Foundation, which supports people who use media, technology and the arts to create awareness of social, environmental or humanitarian issues and effect positive change in local and global communities.
Honestly, I wish I had this journal when I first lost Jeff. I always wanted to journal, but needed guidance as to what to write. This is perfect.

I'm going to give my copy of this book away. If you want to win it, just post a comment -- could be about anything, but ads and spam are not allowed.
thanks!
lisa